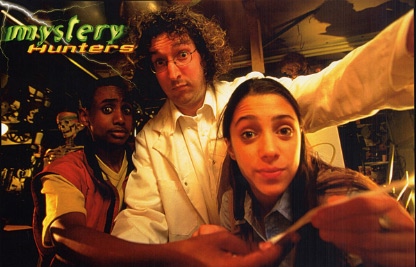 Mystery Hunters is an award-winning documentary series on the paranormal, the supernatural and sometimes, the inexplicable. The show is co hosted by two teenage mystery hunters, Araya and Christina, who scour the world in search of unexplained phenomena. David plays "Doubting Dave," a magician/scientist/skeptic at Discovery Headquarters who helps the kids explore their mysteries from different perspectives in an attempt to weed out hoaxes, cons and delusions.
Are there prehistoric mega-sharks hiding deep in our oceans?

Is there an underwater U.F.O. base off the coast of Puerto Rico?

Who built Stonehenge, and what does it do?

Could the dinosaurs have been wiped out by an asteroid from space?

Did an ancient King named Midas really have the power to turn everything he touched into gold?

Are there hundreds of ghosts trapped under the streets of Edinburgh?

Did a race of giant humans once walk the Earth?

Does the fire goddess Pele live deep inside Mount Kilauea?

Is there an ancient sea monster lurking in the dark waters of Loch Ness?
And the list goes on.
Produced by Apartment 11 Productions, Mystery Hunters ran for 4 seasons and 78 episodes on Discovery Kids, YTV Canada, DMAX in the U.K.,a nd it's now syndicated in the U.S. It also garnered awards and accolades around the world, including 8 Gemini nominations (the Canadian equivalent of the Emmys), a Platinum Best of Show Prize at the Aurora Awards in Salt Lake City, a 2006 Parent's Choice Award, and a 2007 Alliance for Children & Television Award of Excellence.
David also received two Gemini nominations for his writing on the show (2005 and 2007), and he wrote a "Doubting Dave" guide to paranormal tricks and hoaxes called GOTCHA! 18 AMAZING WAYS TO FREAK OUT YOUR FRIENDS, published by Kids Can Press and now a Canadian bestseller.